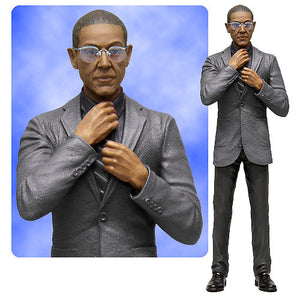 Mezco Toyz AMC Breaking Bad Gus Fring In Suit 6" Mezco Figure Los Pollos Chicken
This is from the hit TV Show from AMC Breaking Bad.Gus Fring, the ruthless drug kingpin with the mild mannered, respectable exterior now joins the lineup of Breaking Bad figures. A fan favorite, this 6-inch scale Gustavo Fring Action Figure wears one of his trademark suits and his ever-present glasses are removable. Dapper yet subdued, he appears harmless, but make no mistake, ice water flows through his veins and he can kill you without hesitation if you stand in his way. In addition to his removable glasses, he comes complete with a scale bucket of Los Pollos Hermanos fry batter and comes on a display friendly blister card.
Relive the tense, edge-of-your-seat excitement with the Breaking Bad Gus Fring 6" Figure!